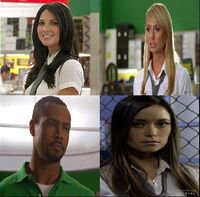 Agent Greta is a codename shared by a number of CIA agents who went undercover at the Burbank Buy More in Season Four, after it has been turned into a fully operational CIA sub-station by General Beckman.
It was revealed in "Chuck Versus the A-Team" that the Greta program was a way for the NCS to hand pick agents for their Intersect project. Gretas number 2 and 3 were assigned for the project, and their real names were revealed as Richard Noble and Victoria Dunwoody.
Background
Edit
At Comic-Con 2010, Chris Fedak announced that from season four the Buy More will be run by the Central Intelligence Agency as a base of operations (much like the Orange Orange was in the second and third seasons) with an agent named Greta working undercover as a Buy More executive and "badass greenshirt."