Augusto Gaez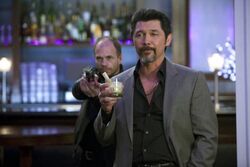 | | | |
| --- | --- | --- |
| | I need immediate extraction - anyway you can - plane, boat, car! | |

Augusto Gaez is the nemesis of the CAT Squad.
Gaez is seen as a laid back character who tends to go with whatever he has. When the CAT squad infiltrates his club, he holds them and tries to recruit them. Sarah declines Gaez's offer for the squad to join the Gentle Hand, he brings up a gun and prepares to kill her. Sarah cuts through her binds with a hidden knife and holds Gaez at knife point. Sarah demands to know who the double agent is, but Chuck falls through the window before Gaez can answer. Chuck tranquilizes several guards and Gaez is taken into custody,
Casey and Amy interrogate Gaez, who denies all involvement with the Gentle Hand. After Zondra and Sarah convince each other of their innocence, they determine that Amy is the real double agent. Gaez had subverted Amy to help track their every mission.
He also had orchestrated the mistrust in the team by having Zondra and Sarah suspecting one another. When the traitor is unmasked and Gaez' operation is taken apart, however, the three remaining ladies find their old rhythm, with a timely assist from Team Bartowski.
Community content is available under
CC-BY-SA
unless otherwise noted.