Bolonia Garcia Bougainvillea Grimes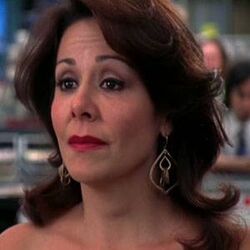 Bolonia Garcia Bougainvilla Grimes Tucker is the mother of Morgan Grimes. Although she only appeared in one episode, she is referenced in many others preceding and following her appearance. She is portrayed by Patricia Rae.
She appeared in the Season Two episode, "Chuck Versus the Suburbs". After Big Mike's wife divorces him, Mike starts putting all his effort into the Buy More, forcing the employees to actually work. The Nerd Herd staff did not like this and so convince Mike to try internet dating, where they lie about his height, weight, and job. They also had given him the name of "Lando Calrissian". Big Mike gets a date and goes on it,  only lying about his job.
The next day, Mike reveals that he is not comfortable with the lies and has asked his date to the Buy More to confess to her. After confessing to Bolonia, she says that she thought Big Mike had called her here because he found out her son works there. Big Mike was hoping it would have been Chuck, but instead Morgan walks over to be shocked Big Mike's date was his mom. Although Bolonia did not make  any appearances since Season Two, in the episode "Chuck Versus the Cubic Z", it is revealed that both Big Mike and Bolonia are still in a committed relationship.  Big Mike asks for Morgan's permission to marry her.
Morgan tells Mike that he greatly appreciates the effort and approves that the two are getting married. Mike gives Morgan the engagement ring, telling him to hold onto for him.
At the end of the episode, Morgan confesses he lost the ring when handling the horde of customers at the Buy More. Mike forgives him, and tells him that he will propose to his mother regardless of the engagement ring.
In the Season Five episode "Chuck Versus the Bearded Bandit", it is revealed that Bolonia and Mike are now married.
Community content is available under
CC-BY-SA
unless otherwise noted.