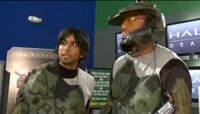 Buy Hard: The Jeff and Lester Story is a web based spin-off series from Chuck which features Jeffrey Barnes and Lester Patel.
The series follows Jeff and Lester in between Season Three and Season Four, where they are "on the run" for blowing up the Burbank Buy More in "Chuck Versus the Ring: Part 2". The series can be found on Youtube and the DVD/Blu-ray for Season Four.
The series introduces us to Jeff and Lester who are on the run after they are accused of blowing up the Burbank Buy More in the last episode of Season 3. They plan out how they're going to fill their time and decide to play Halo.
Upon realising that it's September 13th, the release date of Halo Reach, they plan to get a copy of the game from a local Buy More. Only problem is, they're "wanted" by the police.
Overview
Edit
Buy Hard: The Jeff and Lester Story, an original digital series launched by TheWB, gives viewers who want more a chance to catch up with Jeff (Scott Krinsky) and Lester (Vik Sahay). The season three finale left us with Jeff and Lester supposedly blowing up the Burbank Buy More, and then hurrying to escape in their van in a panic.
These two-three minute webisodes, show you this funny pair as they hide out in their van, on the run. Even in the face of these daunting circumstances, their obsession with video games leads them on a laugh filled quest where they are willing to risk everything they have to grab a copy of the new Halo: Reach, a popular Xbox 360 game. Their quest brings them to the Encino Buy More, where they run into Big Mike (Mark Christopher Lawrence). Will they succeed in their mission?
The title is an homage to Die Hard, of course.
Episodes
Edit
Related pages
Edit
Community content is available under
CC-BY-SA
unless otherwise noted.