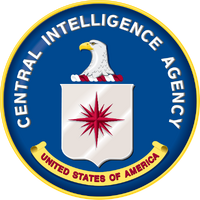 The Central Intelligence Agency (CIA) is the national intelligence service of the United States government, operating by charter solely abroad.
Functionality
[
]
Obtaining and analyzing information about foreign governments, corporations, and individuals in order to advise public policymakers happens to be the CIA's main function.
Additionally, the agency sometimes engages in propaganda and public relations efforts. It also serves as the government's paramilitary hidden hand via covert operations at the direction of the President and under oversight by Congress. This last role has caused much controversy for the CIA, raising questions about the legality, morality, effectiveness, and wisdom of such operations.
It's headquarters is in the community of Langley, Virginia, a few miles northwest from downtown Washington, D.C. along the Potomac River. The CIA has a division meant specifically for covert operations, known as the National Clandestine Service (NCS). Both the CIA and NCS are part of the U.S. Intelligence Community, led by the Director of National Intelligence (DNI).
The CIA was under the command of Director Langston Graham, who worked with superior of National Security Agency (NSA) and Director of National Intelligence herself, General Diane Beckman. It is unknown if the CIA has been assigned a newer director, but since the CIA can be run by the Director of National Intelligence as mentioned, the position is possibly held by Beckman since Graham's assassination.
In the past, the CIA created the organization The Ring. They hoped the government could take advantages with this organization by sending its agents for some black operations or illegal trades with the terrorists in the Middle East. However, the Ring turns into an illegal and autonomous organization without having connection with the CIA. The main objective of the Ring is destroy the CIA, so the Ring can become the main foreign intelligence agency in the United States. Team Bartowski helped the CIA to capture their leadership members and dissolved the criminal organization.
The CIA also played the role of the hidden antagonist of Season 4, specifically Agent Clyde Decker and his corrupt team. The CIA also played the role of an antagonist through half of Season 5, by the end of which it is revealed that the man bending the CIA to his will and trying to handicap Chuck and his friends, was Daniel Shaw, former special agent, Ring double agent, and the primary antagonist of Season 3.
Known Projects
[
]
Stations and Headquarters
[
]