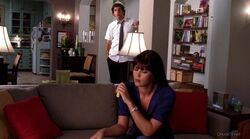 Chuck's Apartment at 1838 Franklin Street, Echo Park, is the apartment most often featured in Chuck (Television Series), with the majority of the main cast having lived there at some point in the series.
The apartment is located in Echo Park, Burbank, Los Angeles County, California. It is shown to have an open plan kitchen/dining/living room, two bedrooms, and one large bathroom. Chuck's ground level bedroom, which faces the courtyard, is a particularly important location; his window, which is occasionally referred to as the 'Morgan Door', is often used to gain entry to the apartment by Morgan, Casey, and Sarah.
Until Chuck Versus the Pink Slip, the apartment was home to Chuck, Ellie, and Devon. During that episode, Ellie and Devon decide that they want their own place, and move to the newly available apartment across the courtyard, leaving Chuck the apartment, but removing most of the furniture.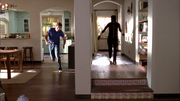 Chuck then asks Morgan to move in, which delights Morgan, having wanted to be Chuck's room mate for a long time. After Morgan moves in, noticeable changes are made; Chuck's guitar and video game equipment emerge from his bedroom, and are seen throughout the living room in prominent positions - such as a Forza Motorsport 3 racing chair.  The apartment looks less like a family home and more like a frat house.
After Sarah and Chuck begin really dating rather than just cover dating in Season Three, Sarah begins spending most nights at the apartment. Although initially reluctant to move in when Chuck asks her, Sarah agrees by the end of Chuck Versus the Role Models and is seen living at the apartment from that point.  The boys with toys decor calms down gradually from then on, and signs of maturity begin to enter.
In Chuck Versus the Masquerade, Morgan decides to move out, not wishing to be the third wheel, living with an engaged couple. He tells Chuck that it is time that he grow up. The pair sadly acknowledge it was the end of an era.
Sarah and Chuck retain the apartment after their wedding in Chuck Versus the Cliffhanger, and it remains their home for the rest of the series.
Residents
[
]
Current
[
]
Former
[
]