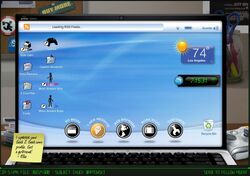 Chuckssecret.com was a promotional website which launched in July 2007.
The site was an interactive look at Chuck Bartowski's laptop. By clicking on files and buttons, visitors could view photos and hear audio clips. ChucksSecret gave the user the keys to Chuck's laptop to see the email he sees during the show's premiere. The scenes seemed to go a bit slower on the website in order for the user to get a bigger picture of what was stored in Chuck's brain.
In addition to the email there were other items to click on Chuck's laptop. One could take a look at what his webcam was transmitting (and, if the user clicks the More Feeds button, they could see Chuck Bartowski's Stickcam profile), scan his work stuff, or take a look at some of his photos.