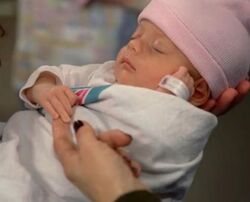 Clara Woodcomb is the daughter (and only child) of Devon and Ellie Woodcomb. She was born prematurely, but, with no problems indicated immediately after her birth, she was apparently very healthy. She came into the world on January 31, 2011 at Westside Medical, the same hospital where Devon and Ellie work.
Clara was born the same day that Alexei Volkoff was arrested and Volkoff Industries was officially shut down. Ellie and Devon were given a full CIA escort to the hospital when Ellie went into labor with Clara.
Her grandmother, Mary Bartowski, was able to visit her very soon after her birth and reunite with Ellie through this shared moment. Clara can be soothed to sleep by playing her Jeffster!'s version of Rusted Root's "Send Me on My Way." Clara lack of regular sleep patterns placed severe strain on her parents in her first few months.
Clara was the catalyst for Ellie taking some time off, since, despite her expressed opinions, she wanted and needed to take maternity leave. This was discerned and mentioned to Devon by Jeff, whose clarity once he was no longer inhaling car fumes led him to this insight. Devon then faked dissatisfaction at being a 'stay-at-home dad' and persuaded his wife to rescue him.
Community content is available under
CC-BY-SA
unless otherwise noted.