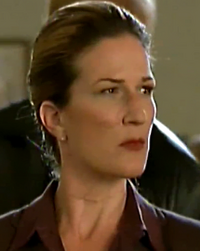 Dasha is an agent from Volkoff Industries who kidnapped Chuck and Gregory Tuttle (Volkoff himself in disguise) during Chuck's rogue attempt to prove to the CIA that his mother, Mary Bartowski, is innocent. She is portrayed by Ana Gasteyer.
Tuttle attempted to seduce her in hopes of "sparing him" while on a Volkoff Industries private plane. Chuck and Tuttle escaped her custody by parachuting out of an airplane on which they were being boarded on. She later reappeared leading a supposed bank robbery to cover for their attempt to recover the data on Mary that Chuck was attempting to find. After the gunfight in the bank, she shoots "Tuttle" as part of Volkoff's plans to gain access to Orion's hidden base.
Dasha has several scars, and is portrayed by actress Ana Gasteyer in a very emotionless manner compared by review Alan Sepinwall to Rosa Klebb.
Seen in: "Chuck Versus the First Fight".

Community content is available under
CC-BY-SA
unless otherwise noted.