Decker's team
refers to an anonymous group of rogue high-ranking intelligence agents led by CIA Agent
Clyde Decker
, and masterminded by
Daniel Shaw
.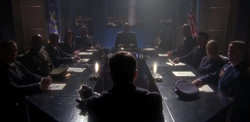 The group was first seen at the end of the Season Five premier episode, "Chuck Versus the Zoom", and included Clyde Decker and at least two members of the US military.
The team's sole purpose is to ensure that both Carmichael Industries and Chuck Bartowski are brought down. "Our superior's interference in Chuck Bartowski's life has only just begun. Now you understand how important he is, and why he must fail."
After Decker was killed by Gertrude Verbanski in "Chuck Versus the HackOff", the group was apparently overseen by rogue CIA Agent Robin Cunnings, who was captured after she took the Woodcombs hostage. She confessed the conspiracy, though she could not identify the mastermind.
The Team were apparently all boarder line or thoroughly corrupt individuals, recruited by a corrupt Decker after he was turned by the rogue, Daniel Shaw. The conspiracy against Chuck and Sarah was strictly personal.
Known Members
Edit
Other agents:
Agent Robin Cunnings (arrested)
Agent Hawk (deceased)
The Viper (deceased)
Agent Javier (deceased)
Community content is available under
CC-BY-SA
unless otherwise noted.