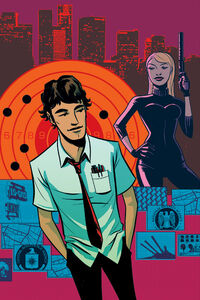 The Chuck graphic novel is a 6-issue mini series based on the NBC television series, Chuck which has since been collected in one volume. Published by Wildstorm, a DC Comics imprint, produced the six-issue series which were written by Peter Johnson and Zev Borow, with art by Jeremy Haun and Phil Noto.
It started in June 2008. A trade paperback collection was published in July, 2009. It also includes a public service announcement on brushing one's teeth from Captain Awesome and two gag adventures with Morgan based on film noir and The Odyssey.
WildStorm also released Brian K. Vaughan's Ex Machina, a series which sees its main character fused with a technological structure, issue #39 of which is used within Chuck to conceal the Intersect Operating manual from General Beckman, Casey, and Sarah for Chuck's studies from "Chuck Versus the Predator" onward.
"Since we can do absolutely anything in a comic book, we're going to take Chuck Bartowski out of the confines of the Buy More store and put him on crazy, globe-trotting spy adventures a la James Bond," says co-writer writer Peter Johnson.
The first issue centers around a plot that finds Chuck "at the big, bad, high-tech Supermax prison in Tokyo where he'll confront all the villains he's helped put away in the series," says Johnson. "We'll also send him to Rio and Moscow. It's what would happen if Chuck was a $300 million Hollywood blockbuster."
Series co-executive producer Peter Johnson and series writer Zev Borow take Chuck Bartowski and his friends on a globe-trotting, action-packed adventure too big for television! Will Chuck survive his first trips to Japan, South America, Eastern Europe and Singapore?
Note: These comics are not considered canon (http://www.huffingtonpost.com/2012/01/26/chuck-finale_n_1235258.html)
Adventures
Edit
Related links
Edit
Community content is available under
CC-BY-SA
unless otherwise noted.