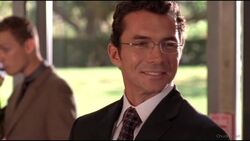 Guy Lafleur, born November 28, 1966 in Evreux, France, is a virologist and the head research scientist for Cole-Macgregor Pharmaceuticals, where he is developing a cure for influenza. First appeared in "Chuck Versus the Ex".
His research leads to the development of an antiviral agent that rendered useless one of Cole-Macgregor's most powerful bioweapons. When Lafleur attempts to go public with his findings, he is murdered by a Fulcrum assassin. He works closely with Jill Roberts, the former girlfriend of Chuck.
Along with his work in virology, he also obtains a list of Fulcrum agents, which he hides on an encrypted flash drive in his hotel room in a puzzle box. He is apparently incredibly paranoid with respect to password security. According to Jill, his previous formula for his computer password was an extract of Vogon poetry. The character's name is borrowed from the Hall of Famer who played seventeen seasons in the National Hockey League with the Montreal Canadiens, New York Rangers and Quebec Nordiques.