Harry Tang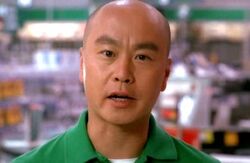 | | | |
| --- | --- | --- |
| | I will not be ignored! | |

Harold "Harry" Tiberius Tang was a senior employee of the Buy More. Aggressive and overbearing, Harry is convinced that Big Mike is going to promote him to assistant manager over Chuck, who will not "leave the comfort of the herd.".
Character
[
]
Harry is power hungry, hostile, paranoid, and constantly trying to shift blame on to others. He is universally despised by the other Buy More employees. He finds great pleasure in tormenting Morgan, particularly, but has great disdain for all his fellow employees, and does his utmost to push them around and make their lives miserable. The others dread the possibility of his promotion.
His true love is his flirty and unfaithful wife, Poppy Tang.
Series
[
]
In the pilot, he gets in Chuck's face for helping out the Dad and Daughter, asking if he knew how much his assistance of customers was costing in "Buy More dollars." Chuck responded that he was unaware they had their own currency. His interference allows Sarah to leave the store before Chuck could speak to her again.
In Chuck Versus the Sandworm, Harry and Chuck are scheduled to interview with a man from corporate HR for the assistant manager's position. Chuck, however, misses the interview due to a spy mission and Harry gets the job, uncontested, "Chuck Bartowski sounds like a hell of a guy. When he comes in tomorrow, he'll be working for one Harold Tiberius Tang. God help you all."
In Chuck Versus the Truth, Harry breaks into the Home Theatre Room while Team Bartowki are in conference with Beckman. Casey handles him, and has him moved to Hawaii with his wife - who apparently had been having an affair with Big Mike for six months, the affair was perhaps the only reason Big Mike made Harry the assistant manager, since he felt guilty about "diddling the Lady Tang." Harry leaves with the belief that he is to be a new intelligence operative in Oahu, Hawaii - a smooth lie courtesy of Major John Casey. Casey also further inflates Harry's fragile ego and covers for Chuck when he tells Harry that Chuck was only a "small potato" used to bring in Harry, who is actually the "big potato."
Trivia
[
]
Harry may be a fan of the rock band; Van Halen. During Chuck Versus the Alma Mater, it is revealed he has set the code to his master remote at Buy More to "OU812#", which is a reference to Van Halen's 8th album that was titled "OU812".