Harry Tang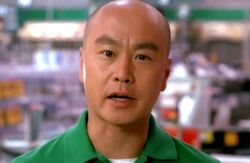 | | | |
| --- | --- | --- |
| | Chuck, I will not be ignored! | |

Harold "Harry" Tiberius Tang was one of Chuck's coworkers at the Buy More. Smug and overbearing, Harry is convinced that Big Mike is going to promote him to assistant manager, a position he obtained when Chuck fails to show up to his interview with a matter of spy business.
Character
Edit
Harry is is pessimistic, paranoid, and constantly trying to shift blame on to others. He is universally hated by the other Buy More employees. He finds great pleasure in tormenting Morgan, and does his utmost to reign supreme over all employees and make their lives miserable after he is promoted.
His true love seems to be his flirty and unfaithful wife, Poppy Tang.
In "Chuck Versus the Truth", Harry moves to Hawaii with his wife, who apparently had been having an affair with Big Mike for six months; the affair was perhaps the only reason Big Mike made Harry the assistant manager, since he felt guilty about "diddling the Lady Tang."
Harry leaves with the belief that he is to be a new intelligence operative in Oahu, Hawaii - a smooth lie courtesy of Major John Casey to explain themselves when Casey, Sarah, and Chuck were caught in the Buy More Home Theater Room talking to the general during Harry's investigation of what he believed will be a rendezvous between his wife and Morgan. Casey also further inflates Harry's ego and covers for Chuck when he tells Harry that Chuck was only a "small potato" to bring in Harry, who is actually the "big potato."
Harry may be a fan of the rock band; Van Halen. During "Chuck Versus the Alma Mater", it is revealed he has set the code to his master remote at Buy More to "OU812#", which is a reference to Van Halen's 8th album that was titled "OU812".
Community content is available under
CC-BY-SA
unless otherwise noted.