Welcome to Chuck Wiki
Chuck Wiki is a fan-created Intersect-like database which is dedicated to providing detailed information on all aspects of the NBC Television Series, Chuck.
This wiki format is designed to allow any Chuck fan to contribute to its pages. Before you begin editing, please view our comprehensive FAQ and Manual of Style.
For those in search of particular groupings, the Category tree may be of use.
Series Finale:
Chuck Versus the Goodbye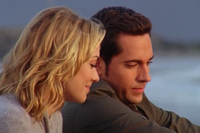 Chuck Versus the Goodbye is the last episode of the fifth season, and is the series finale of Chuck. The episode aired along with "Chuck Versus Sarah" on January 27, 2012 as a 2-hour special.
Synopsis
Chuck's final mission brings him back to his roots as he fights to save his future. Chuck enlists his family, friends and some unexpected allies as he races to stop Nicholas Quinn from destroying everything Chuck has built over the past five years.
Featured Article:
Chuck Spin-off Media
Chuck Spin-off Media refers to the number of official alternative media material based on the Chuck television series that have been released. This material, set in the Chuck universe, allows fans to see new areas of the shows universe or see existing areas in more detail.
The spin-off material currently consists of a graphic novel and the four web series: webisodes, Meet the nerd herders, Morgan's vlog and Buy Hard.

For more information, see Chuck Spin-off Media
Help Build the Wiki
To write a new article, just enter the article title in the box below.
You can find a list of useful templates on Category:Templates. Check out the ."Wanted Articles" list to see what is needed.
Want to help editing pages we're stuck on? See a full list here Stub
Before creating a new page, check to see if the same page with a different spelling exists
If you have a question, you can ask any of the administrators