Howard Busgang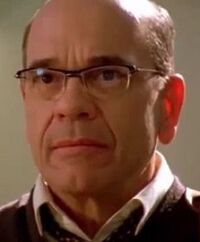 Seasons:
2
Portrayed by:
Robert Picardo
Status:
Deceased
Occupation:
Scientist
Aliases:
Perseus
Relatives:
Relationships:
Residence:
Appearances:
Chuck Versus the Lethal Weapon
| | | |
| --- | --- | --- |
| | Can it be removed? Possibly. I don't know, only Orion would know. | |

Dr. Howard Busgang born March 7, 1960 in Westport, CT, is a Department of Defense scientist who specializes in mapping the human brain's cognitive and spatial functions. He was assigned the government code name of Perseus while designing the Intersect. He is portrayed by Robert Picardo.
Without him knowing it, he is working for Fulcrum during the development of their version of the Intersect, as he was one of the original team that developed the first Intersect alongside Orion. Chuck later accidentally shot Busgang in the leg when he was attempting to rescue Casey and Sarah.
Busgang subsequently escaped to a hospital for treatment of the gunshot. He then returns to his lab to retrieve his money and passport.
Busgang claimed he had heard about the human Intersect, but initially never considered the possibility. Chuck asked him if the Intersect could be removed, and he thought it might be possible, but only Orion would know. When his Fulcrum handle, Duncan, arrives, breaking up the meeting, he shoots and kills Busgang before he could tell Chuck who Orion is, despite his protest that he revealed nothing to Chuck.
He had professed that he did not know who he was really working for, and thought he was working legitimately for the government.
pages.
This template is courtesy of Heroes Wiki.
{{characternav
|season=<!--Latest season in which character has appeared (one, two, 1, 2)-->
|type=<!--Character type (Main, Recurring, Minor)-->
}}
Will auto-clear sidebars on short articles. </noinclude>