Javier Cruz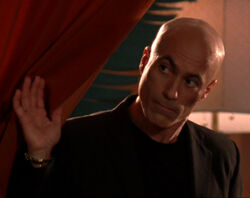 Seasons:
3
Portrayed by:
Adoni Maropis
Status:
Occupation:
Assassin
Aliases:
Relatives:
Relationships:
Residence:
Mexico
Appearances:
Chuck Versus the Pink Slip
Javier Cruz is an international assassin and the leader of The Ring's cell in Mexico. He plays a pivotal role in "Chuck Versus the Pink Slip". He is portrayed by Adoni Maropis.
In "Chuck Versus the Pink Slip", he first appears in the guise of a musician named 'Manny'. He arrives at a restaurant in disguise only to be  knocked out by a kick from Chuck. He again appears inside the El Bucho restaurant, where he attempts to assassinate Gilles. His plot is foiled by Chuck, however, who fears he is going to kill Sarah, and jumps on top of her, thereby blowing the op for the various agents present in the restaurant.
Javier makes his escape, but then appears later in the episode, when he murders Emmett Milbarge, and again when he captures Chuck and Sarah, taking them to Mexico, where they escape with the aid of Casey.
Community content is available under
CC-BY-SA
unless otherwise noted.