Justin Sullivan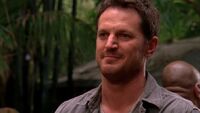 Seasons:
Season 3
Portrayed by:
Scott Holroyd
Status:
Incarcerated
Occupation:
Ring agent
Aliases:
unknown
Relatives:
Relationships:
Residence:
Appearances:
"Chuck Versus the Break-Up"
| | | |
| --- | --- | --- |
| | Justin, right? You're the one who manipulated my sister...well, I think this is going to hurt a little bit. | |

Justin Sullivan (Scott Holroyd) is a Ring operative initially based in the Democratic Republic of the Congo, and the tertiary antagonist of Season 3.
He was undercover as the Camp Security Coordinator for the Doctors Without Borders program, where he met Devon and Ellie after their arrival, although his unusual nature was highlighted by his killing a venomous snake approaching the couple while having dinner.
Later, while Ellie expressed her frustration at her difficulties adjusting to working under such conditions, Justin encouraged her about the work they were doing.
He assisted them with making an emergency evacuation when Devon was apparently stricken with malaria. As they departed, Justin made a call on a Ring communicator announcing that the couple were out of the way and that Devon's symptoms were artificially engineered so they would return to Burbank. "Chuck Versus the Role Models"
Justin follows Ellie back to Burbank in "Chuck Versus the Tooth"" and poses as a CIA operative to gain Ellie's confidence and recruit her as an asset. He claims that Casey is a double-agent who poses a significant threat to her father, and manipulates her into revealing Stephen left a means for his children to contact him when he left after her wedding.
Justin uses Ellie in an attempt to capture Stephen and steal the Governor, which regulates the electrical impulses of an Intersect flash and helps protect the host from harmful side-effects and brain damage. Justin has the most appearances in the series among minor villains. First seen in: "Chuck Versus the Role Models".
In Chuck Versus the Ring: Part 2, he had the misfortune to run into Chuck who recognized him as the man who manipulated his sister.  He told Justin that what followed would hurt.  Chuck beat him down with a cane.  He was among those arrested in the round up of Ring operatives.
List of Appearances
Edit
Community content is available under
CC-BY-SA
unless otherwise noted.