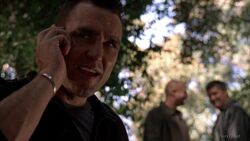 Karl Stromberg (Vinnie Jones) is an arms dealer and was hired by the Ring to move their intelligence safe. The DEA had long been attempting to bring him down. Sarah's DEA friend Carina Miller finally managed to get close to him by becoming his girlfriend.
Stromberg genuinely fell deeply in love with Carina, and their phone conversations were a frequent source of (suppressed) amusement to his men. Stromberg's final deal was an unidentified weapon being smuggled in to California. Now engaged to her mark, Carina enlisted Sarah and her team to steal the weapon during their engagement shower. The effort was largely successful, but security recordings of Chuck inadvertently blew Carina's cover. Stromberg was deeply crushed by the news that Carina had never loved him and took her hostage in an attempt to recover the weapon.
His team was dispatched by Chuck, Casey and Sarah, but Stromberg kept Carina hostage, threatening to kill her. Chuck reached out to Stromberg about having his heart broken and managed to talk him down long enough for Carina to break free and take him out, which was not what Chuck had really wanted to happen.
He is seen only in: "Chuck Versus the Three Words".

Community content is available under
CC-BY-SA
unless otherwise noted.