Kathleen McHugh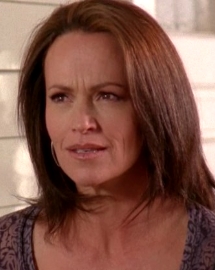 | | | |
| --- | --- | --- |
| | Look at you - you're a soldier, you're a hero. You have everything you ever wanted. | |
Kathleen McHugh was the fiancée of Alex Coburn, birth name of John Casey, and is the mother of Alex McHugh.
She is first seen in "Chuck Versus the Tic Tac", during a flash back sequence where she is talking to Alex Coburn on the phone, in what would turn out to be the last phone call she would ever receive from Coburn. Alex was officially killed in action, an event staged by James Keller, and he officially became John Casey. Kathleen believed that Alex had died and unbeknownst to him, she was already pregnant with their daughter, Alex McHugh.
She is seen later on in "Chuck Versus the Tic Tac", when Chuck is sent over to her house to protect her from the Ring, whilst Sarah and Casey take out Keller. Chuck, posing as a man from the gas company, tries to get Kathleen to leave the house, but changes tactics and locks her safely in a closet after he sees Keller's men approaching the house.
She stays locked up in the closet whilst Chuck uses the Intersect 2.0's fighting skills and the Laudanol pill to fight off all of Keller's men. She is seen lying down on the sofa after the fight has ended. She notices Casey's face and comments that she has seen him before. Her daughter then returns home, revealing to Casey he has a daughter, who he then begins a tentative relationship with.
It is discovered in "Chuck Versus the Seduction Impossible" that Kathleen does not know that her former fiancé is still alive, and that Alex has had to lie to her mom when she is spending anytime with her dad. It is later revealed that Alex had chosen not to tell her mom about her dad because Kathleen had found someone else and was finally happy.
In "Chuck Versus the Wedding Planner" Kathleen walks into the Buy More and  is confronted by Morgan and Alex, who lead her out because to avoid a meeting between her and Casey. But Kathleen looks behind and see's him. She later follows him from the Buy More to a wedding party where he was on a mission, and she follows him to the back foyer, after a brief confrontation, Casey  tells her she has to leave.
In the parking garage, Kathleen witnesses Casey arresting the target and hears him tell the officers "Colonel John Casey, NSA".
Kathleen then believes him and Alex can now meet him without lying to her.
She and Casey meet one more time and part amicabley.
Community content is available under
CC-BY-SA
unless otherwise noted.