Langston Graham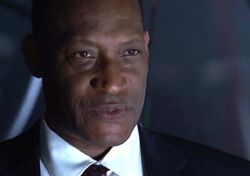 | | | |
| --- | --- | --- |
| | I'm the man who put your father in prison. | |

Director Langston Graham was the direct superior of CIA agent Sarah Walker, and assigned her to follow-up on Bryce's theft of the Intersect by sending her to Burbank to track down where he sent the data to. He is portrayed by Tony Todd.
Little personal information about Graham was established, other than that he arrested Sarah's father when he conned the wrong people. The details of the arrest and later release of Sarah's father have not been revealed. During this event, Graham cornered and confronted Sarah, while she was attempting to recover the money her father left in the event something happened to him. He was impressed by Sarah's skill with knives and recruited her.
Graham is one of the few people who knew Sarah's real name (from her birth certificate, although the events shown in "Chuck Versus the Baby" suggest the certificate he saw might have been a fake), as well as the series of aliases she had used growing up as part of her father's con jobs. It was Graham who gave her the alias of "Sarah Walker".
Graham's final active appearance was in "Chuck Versus the First Date", where as he was in the process of activating the rebuilt Intersect and exposing several field agents to the data, it exploded due to Fulcrum sabotaging the Cipher. The computer and facilities were destroyed and Graham was killed.
Shortly before this event, he and Beckman activated Casey's red operation orders on Chuck, however, once Casey overheard Sarah informing Chuck of Graham's death, the order was rendered null and void.
His last appearance in the series was in a flashback in "Chuck Versus the Baby", when he is shown to have assigned Sarah to Chuck's case.
Community content is available under
CC-BY-SA
unless otherwise noted.