Laszlo Mahnovski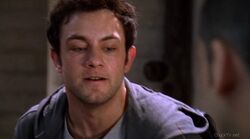 Laszlo Mahnovski is a former child prodigy who has worked with the CIA on top secret weapons projects.
Items he claims to have designed include Chuck's modified Nerd Herder, the home theatre system at the Buy More, and Chuck's Watch. While he initially stated that he was set up by the CIA for the deaths of his handlers, it can be assumed that he is, in fact, their killer, due to his demonstrated psychotic break.
He planned to blow up the arcade at which his recruiter found him as a child, but was unsuccessful due to Chuck's vast knowledge of James Bond movies, which helped him figure out how to disarm Lazlo's bomb inside the Nerd Herd Mobile.
Chuck speculated that he was involved in the creation of the Intersect, but this was later found to be erroneous. Laszlo is often seen as much like a 'through the glass, darkly' version of Chuck.
Mahnovski is a play on the last name of actress Yvonne Strahovski, who portrays CIA agent Sarah Walker.
Community content is available under
CC-BY-SA
unless otherwise noted.