Lou Palone
Seasons:
01
Portrayed by:
Rachel Bilson
Status:
Alive
Occupation:
Dekli owner and sandwich maker
Aliases:
none
Relatives:
Unknown
Relationships:
Chuck Bartowski (ex-boyfriend)
Stavros Demetrios (ex-boyfriend)
Residence:
Burbank
Appearances:
Chuck Versus the Truth

| | | |
| --- | --- | --- |
| | I often think about meats and cheeses. | |

Lou Palone is a minor love interest for Chuck in two episodes of season one. Lou owns Lou's Deli, a sandwich/deli shop at the local mall. She has named a sandwich on the menu she after Chuck for fixing her cell phone.
Character
Lou first appears in "Chuck Versus the Truth" when she visits the Buy More's Nerd Herd to get her cell phone fixed, where Chuck is on duty. She is panicked at the prospect of a broken phone since she stores her "whole life" in it but is calmed down by Chuck when he reassures her it will be good as new.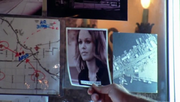 When she comes back to check on her phone, which is mended, she flirts with him and hands him a sandwich, which she has named after him. However, things are sidetracked when Sarah appears, introducing herself as Chuck's girlfriend. Following the awkward tension, Lou leaves.
Later, when Chuck sees her getting into her car outside the Buy More, she reveals that she is interested in seeing him. She admits she likes Chuck, but she does not like guys who cheat. Chuck agrees that he doesn't like cheaters either, prompting Lou to tell him that she likes that about him, too.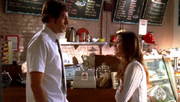 When Chuck breaks off his cover relationship with Sarah and starts to date Lou, they are together for a one more episode until Chuck breaks up with her, because he does not want to keep lying to her about his spy life. The 'Powers That Be', i.e. General Beckman, express grave concerns over a civilian dating 'the asset', and Sarah is clearly, though unwillingly, jealous, a fact not helped by Casey's unequivocal 'she got dumped' statements.
Lou's own past, specifically her ex-boyfriend,  and the confluence of this with his sister's exposure to the spy world, shows Chuck that he cannot compartmentalize as clearly as he had always assumed he could. It is the fear that his espionage forays might endanger her which are the driving force behind Chuck's need to put an end to his first unquestionably real relationship since Jill.
List of Appearances
Trivia
From the Mission Logs viewed in 'Chuck Versus Sarah' it is revealed that Chuck and Lou dated for about a week.
Community content is available under
CC-BY-SA
unless otherwise noted.