Frank Mauser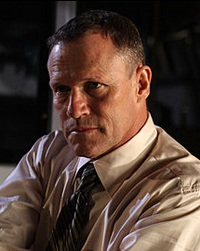 Seasons:
2
Portrayed by:
Michael Rooker
Status:
Deceased
Occupation:
Police officer
Aliases:
Relatives:
Relationships:
Residence:
los Angeles
Appearances:
"Chuck Versus Santa Claus"
| | | |
| --- | --- | --- |
| | I know that Chuck Bartowski's the Intersect. | |
Frank Mauser was born on January 14, 1958 in Joliet, IL. An LAPD negotiator, it is believed that he developed extensive ties with Fulcrum during his time as commandant of the LA Police Academy. He appeared in "Chuck Versus Santa Claus".
When the employees of the Buy More were taken hostage by Ned Rhyerson, Lt. Frank Mauser (Michael Rooker) took control as hostage negotiator. Mauser had orchestrated the entire incident, Ned was his partner; from the high-speed police chase, to the car crashing into the Buy More, and the hostage situation - all to identify who Casey and Sarah are assigned to protect.
Mauser's exact position within Fulcrum is unknown, however his claims that Fulcrum would be determined to rescue him indicate he held a fairly high rank within the organization.
He was highly intelligent and his plan nearly succeeded in both identifying and capturing the Intersect, making him one of the most successful any of their agents when it came to achieving their goal. Only Tommy and Lizzie had identified Chuck before, and both of them ended in secure CIA prisons.
Mauser knew both Casey and Sarah were assigned to protect someone with ties to the Buy More, and arranged for Ned to eliminate Casey as a threat by 'accidentally' shooting the latter in the foot: enough to disable him but a minor enough wound to keep the following negotiations believable. The operation required a high level of planning only seen before by Leader's operation to access Castle.
In addition to his tactical abilities Mauser was highly skilled in hand-to-hand combat, and was utterly ruthless. Disarmed, he surrendered to Sarah, but when he boasted that Fulcrum would find him and so long as Chuck lived, he'd be a target. Sarah opted to execute him rather that allow the extreme and immediate threat he presented to Chuck.
Intersect Information
Edit
He once held the ambassador of Peru as a hostage in exchange for 42 millions dollars. He killed the ambassador after the CIA paid the money for him.
Community content is available under
CC-BY-SA
unless otherwise noted.