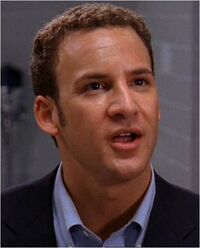 Mark Ratner was born on April 24, 1980 in San Diego, CA. He is a kind and nerdy engineer who "just loves math".
It is revealed in "Chuck Versus the Cougars" that he attended James Buchanan High School in San Diego in the same graduating class as his eventual wife Heather Chandler and Sarah Walker (then using the pseudonym Jenny Burton). He had participated with Sarah in several high school activities: AV Club, Chess Team, and Mathletics.
However, when he steals plans for the new F-22 'super-bomber' from Winthrop-Keller Aeronautics and attempts to hand them over to Ivan Fyodorov and the Russian mob, Chuck, Sarah and Casey intervene. In the end it is revealed that his wife, Heather, is attempting to sell the plans to the Russian mob simultaneously, and orders that two mob members at the high school reunion kill both Chuck (using the pseudonym Charles Carmichael) and Ratner. Ratner believes that Chuck is actually the fictional Charles Carmichael, an elite CIA agent, after he was saved multiple times by Casey, who quickly left, leaving Chuck with the bodies, leading Ratner to believe Chuck is a hero.
Seen in: "Chuck Versus the Cougars"
In keeping with the series' tendency to reference popular culture, he shares his name with the nerdy Mark Ratner (Brian Backer) in Fast Times at Ridgemont High, while the trio's alma mater shares its name with the Sweathogs' high school in the television series Welcome Back, Kotter.
Community content is available under
CC-BY-SA
unless otherwise noted.