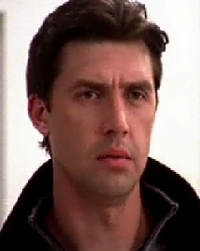 Miles was a member of John Casey's old special ops unit. Miles assassinates an imprisoned Ted Roark and his own comrades on Casey's team just after Ellie and Devon's second wedding. He is portrayed by Tug Coker.
While Miles had Casey at gunpoint after assassinating the rest of his team, Casey asks Miles if he was a member of Fulcrum, but Miles denies it and knocks him unconscious, sparing him as Casey had once saved his life.
He resurfaces again at the final scene of the episode, where he leads the rest of his agents to the secret Intersect building, where they used Bryce Larkin to gain access to the room holding the Intersect.
He is later revealed as an agent of the Ring. Bryce reveals that the Ring is an organization of which Fulcrum was only one part of. Miles attempted to steal the Intersect 2.0, but was foiled by Chuck, who uploaded the computer into his own brain again before destroying the system. He attempted to retaliate by killing Chuck, but was defeated when it was revealed the new Intersect gave Chuck advanced martial arts skills.
He appears in: "Chuck Versus the Ring".

Community content is available under
CC-BY-SA
unless otherwise noted.