Mr. Riley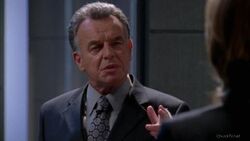 Seasons:
04
Portrayed by:
Ray Wise
Status:
Dead
Occupation:
Volkoff Industries lawyer
Aliases:
Unknown
Relatives:
Unknown
Relationships:
None known
Residence:
Unknown
Appearances:
Multiple episodes of Season Four

Riley is the lawyer of Alexei Volkoff, handling Volkoff's estate after his arrest. Riley reads to Volkoff's daughter, Vivian, her father's will, revealing Volkoff's intention for her to take control of his company, Volkoff Industries. He is portrayed by Ray Wise of Reaper fame, and is the tertiary antagonist of Season 4.
Riley is adamant that Vivian accepts the offer into becoming the new successor, and holds her at gunpoint when she declined. Although Vivian injures him and escapes, Riley later returns her locket and convinces her that the CIA have betrayed her, revealing that Chuck, the man she trusts was the one who arrested her father. They are last seen driving away to their headquarters so Vivian can learn more about her father's company.
In "Chuck Versus Agent X" Riley, partnered up with Jasmine to attempt to recover Stephen Bartowski's laptop from Chuck, ambushing him and his friends during his bachelor party in Las Vecas, and later assaulting Team Bartowski at the Somerset house of Hartley Winterbottom; the real identity of Alexei Volkoff and Agent X, so they can retrieve deep intelligence on Agent X from Hartley's mother. He survives when Mrs. Winterbottom destroys the house and kills Riley's assault team to cover Team Bartowski's escape.
Riley returns once more in "Chuck Versus the Last Details", guiding Vivian her way into gaining even more respect from the organization. Riley and Vivian kidnap Frost as she attempted to retrieve the Norseman Device. However, Frost escaped with the help of Team Bartowski, and unfortunately Chuck accidentally slipped out in front of Vivian and Riley that Frost is his mom. Riley further proves this fact to her, and they begin plotting revenge.
At the end of the episode, Riley and Vivian drive off away from their headquarters until they were knocked unconscious in a deliberate accident for Chuck and Sarah to capture them along with the Norseman Device. After Chuck reveals to Vivian that he is not Agent X, and that Agent X is actually her father, Riley holds Chuck at gunpoint and goes further in detail himself, explaining that it was Stephen Bartowski who turned her father into Volkoff.
Riley was then killed by Sarah as he attempted to shoot Chuck, but Vivian managed to escape and proceeded with her revenge against Chuck as she was guided into more detail on his family.
He first appeared in: "Chuck Versus the First Bank of Evil".
List of Appearances
Edit
Riley was played, with his usual levels of suave devilry, by Ray Wise.
Community content is available under
CC-BY-SA
unless otherwise noted.