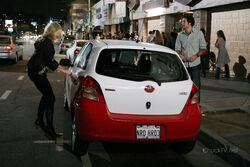 The Nerd Herder, also known as The Herder, is the name given to the cars that belong to the Buy More's Nerd Herd, which Chuck has access to and uses both for his job at the Buy More and occasionally for his work with Sarah and Casey.
The Herder began the season as a Toyota Yaris, but was heavily damaged in the pilot episode and presumably rebuilt and modified by the CIA. From Season Two onward, the Herder became a Toyota Matrix.
Features
[
]
A standard Buy More Herder includes all-wheel drive, MP3 capability, and GPS navigation. It's painted in the red-and-white "Nerd Herd" color scheme, rather than the basic Buy More green and yellow.  Chuck's car, however, has been heavily modified by the CIA.
The first of these modifications appears in "Chuck Versus the Helicopter". The Herder is known to have the following modifications:
access to a GPS/tracking network
an ejector seat and passenger-side control system
an internal detention mode
the ability to be driven by remote control
a self-destruct mode
a camera in the back seat.
In Chuck Versus the Sandworm, it is revealed that Chuck's Herder has been fitted with a self-destruct system, an auxiliary set of controls for the passenger, and an ejection seat for the driver. The car is also designed with a "Detention mode" which is activated via key remote, cuffing the driver in place and keeping them detained until further notice.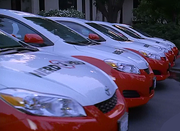 It was destroyed with a bomb by Chuck in the episode Chuck Versus the Best Friend, when he used the remote control system to take the explosive device to a safe distance before it detonated. Chuck was not seen driving a Nerd Herd car again until Chuck Versus the Colonel and the episode did not reveal if this car possessed any of the same modifications as the original Herder.
Since Chuck and Casey manage to destroy the Herders on a fairly regular basis, the CIA presumably has several of the cars already modified that they can use to replace the current model without drawing Big Mike's attention.
The Herder and its extensive high-tech modifications are a nod to the modified cars featured in the James Bond films.