Peyman Alahi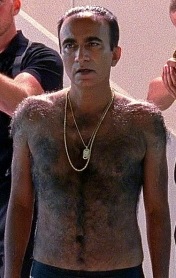 Seasons:
01
Portrayed by:
Iqbal Theba
Status:
Incarcerated
Occupation:
Financier
Aliases:
Unknown
Relatives:
Unknown
Relationships:
Residence:
Unknown
Appearances:
Chuck Versus the Wookiee
Peyman Alahi (born December 20, 1963 in Karachi, Pakistan) is is an international financier for various Afghan opium cartels. He is in possession of the Nadan-I-Noor diamond (worth $26 million) as collateral in an attempt to secure surface-to-air missiles for an Afghani terrorist group.
The diamond is stolen by Chuck, Sarah, and a DEA agent, in order to prevent the purchase of the 26 stinger missiles. He is easily distracted by beautiful women, as evidenced by his reaction to Sarah and Carina.
Community content is available under
CC-BY-SA
unless otherwise noted.