Richard Noble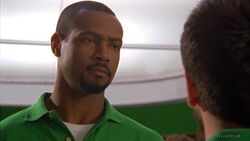 Captain Richard Noble is a CIA agent in the "Greta" program.
Rick first appeared in "Chuck Versus the Suitcase", where he worked at the Burbank Buy More under the code name "Greta" as part of a CIA project to hand pick the best Greta agents to be assigned for the NCS Intersect project.
Whilst undercover as Greta, he demonstrates strength by carrying a flat-screen television with one hand, and considerable accuracy by shooting a box with a price tag from 30 feet away. His - and all the other agents' - excessive efficiency, pleasant demeanor, and helpful service rendered the store's cover virtually transparent, as noted by Grimes to Beckman. With Beckman's approval, Grimes augments the government personnel with the store's former lazy, creepy, and surly staff.
"Chuck Versus the A-Team" finally reveals that he has been chosen for he NCS Intersect project and has become a human Intersect like Chuck Bartowski. After failing to defuse a bomb as it lacked specs from the Intersect, the project was disbanded and the Intersect was removed from Noble's head, for which he expressed his relief, as well as sympathy for Chuck.
Rick was undercover in "Chuck Versus the Suitcase" at the Buy More and became an inspiration to younger customers, who tell him that their new ambition is to work at the Buy More.
Noble reappears in "Chuck Versus the A-Team", confronting Chuck and Sarah after they break into the secret section of Castle, where Colonel John Casey is running the NCS Intersect project. He gets into a fight with Chuck alongside with another Greta, Victoria Dunwoody, being able to match each other having the same version of the Intersect 2.0 in them, using the Laptop Intersect.
List of Appearances
Edit
External Links
Edit
Community content is available under
CC-BY-SA
unless otherwise noted.