Message: This article is written from a real-world point of view.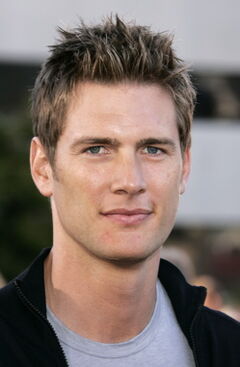 Ryan McPartlin (b. July 3, 1975) plays Devon Woodcomb, aka "Captain Awesome", on Chuck.
Before Chuck, McPartlin was known for his roles as Hank Bennett on the soap opera Passions, and Riley Martin on the sitcom Living with Fran.
Born and raised in the suburbs of Chicago, Illinois, McPartlin graduated with a degree in speech communication from the University of Illinois at Urbana-Champaign.
After graduating, Ryan decided to spend six months in Australia and New Zealand to explore the outback and decide which career path he should follow. It became clear that he wanted to be an actor, so he moved to Southern California to pursue his dream.
He spends a great deal of his non-working time taking acting classes and says that his other passions include almost any outdoor physical activity, including scuba diving, tennis, snowboarding, and racquetball. Ryan is also serious about physical fitness and is a board-certified personal trainer.
McPartlin has been married to actress Danielle Kirlin since October 26, 2002.
In mid-2010 he appeared in Sugarland's music video "Stuck Like Glue" as a man being stalked and abducted by lead singer Jennifer Nettles.
External links
Edit