The Fourth Season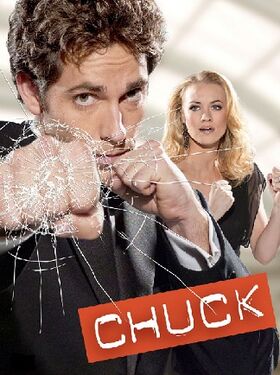 | | |
| --- | --- |
| Theme: | Action-comedy |
| Country of origin: | USA |
| Network: | NBC |
| Original run: | September 20, 2010 - May 16, 2011 |
| Total episodes: | 24 |
| Seasons: | Season 1 • 2 • 3 • 4 • 5 |
The Fourth Season of Chuck began airing on the September 20, 2010 in the United States with Chuck Versus the Anniversary. The events of this season take place six months after the third season.
This season saw the introduction of villains: Alexei Volkoff, head of Volkoff Industries, and Volkoff's daughter, Vivian McArthur.
Production
[
]
The fourth season of Chuck was announced on May 13, 2010. Having initially ordered 13 episodes, NBC ordered an additional 11 on October 19, 2010 for a total of 24 episodes.
Josh Schwartz and Chris Fedak expressed a desire to continue the series past the fourth season as early as March 2011, when it was announced that the season finale would be titled Chuck Versus the Cliffhanger.
Unlike the third season which was held as a mid-season replacement, this season remained in it's traditional Monday 8/7c time slot.
Both Blu-ray and DVD sets are available. [1]
Season Arc
[
]
Chuck enlists the help of Sarah, Morgan, and Casey to help find his mother Mary.
When the Alexei Volkoff issue is finally resolved, Ellie and Devon welcome a daughter, Chuck and Sarah get engaged and begin preparing for their wedding. Volkoff's daughter, however, is subverted by his old advisor, and takes her place as the organization's new head. Vivian then begins plotting against Chuck, who she has been told lied to and manipulated her in addition to being the man who took her father down.
Cast
[
]
Main
[
]
Recurring
[
]
Episode List
[
]
DVD Special Features
[
]
Chuck Versus Directing: Zachary Levi Takes Charge on Chuck Versus the Leftovers
Operation Gomez: Spying on the Cast: Joshua Gomez Shows Off His Newfound Spy Skills
Chuck Versus the Webisodes: The Chronicles of Jeff and Lester's Quest for an Elusive Video Game
Blu-ray Exclusive – The Top Secret Chuckapedia Interactive Experience
Declassified Scenes
Gag Reel
References
[
]
pages.
This template is courtesy of Heroes Wiki.
{{characternav
|season=<!--Latest season in which character has appeared (one, two, 1, 2)-->
|type=<!--Character type (Main, Recurring, Minor)-->
}}
Will auto-clear sidebars on short articles. </noinclude>