The First Season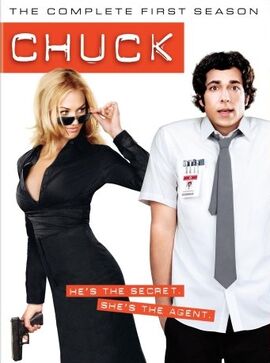 | | |
| --- | --- |
| Theme: | Action-comedy |
| Country of origin: | USA |
| Network: | NBC |
| Original run: | September 24, 2007 - January 24, 2008 |
| Total episodes: | 13 |
| Seasons: | Season 1 • 2 • 3 • 4 • 5 |
The First Season of Chuck began airing on the 25th of September, 2007 in the United States and was picked up for a run of 13 episodes.
Season Plot
[
]
Charles "Chuck" Bartowski, ace computer nerd at Buy More, is not in his right mind. That's a good thing. Ever since he unwittingly downloaded stolen government secrets into his brain, action, excitement, John Casey, and Sarah Walker, a cool secret agent undercover as his girlfriend, have entered his life. It's a bad thing, too. Because now Chuck is in danger 24/7.
Production
[
]
There have been various changes to the show prior to the airing of the pilot episode.
Episode List
[
]
Cast
[
]
Main
[
]
Recurring
[
]
DVD Special Features
[
]
Declassified Scenes
Chuck on Chuck: Series stars join creators for some point/counterpoint
Chuck's World: Character Development and Original Casting Sessions
Chuck vs. the Chuckles: Gag Reel
Chuck's Online World: Gallery of Web-Originated Mini-Featurettes
pages.
This template is courtesy of Heroes Wiki.
{{characternav
|season=<!--Latest season in which character has appeared (one, two, 1, 2)-->
|type=<!--Character type (Main, Recurring, Minor)-->
}}
Will auto-clear sidebars on short articles. </noinclude>