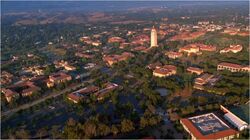 The Leland Stanford Junior University, commonly referred to as Stanford University or Stanford, is a private research university located in Palo Alto, California, United States.
The university was founded in 1891 by United States Senator and former California governor Leland Stanford and his wife, Jane Lathrop Stanford, as a memorial to their son Leland Stanford Jr., who died of typhoid in Italy a few weeks before his 16th birthday. The Stanfords used their farm lands in Palo Alto to establish the university with the hope of creating a large institution of higher education in California.
Relevance
Edit
Within the Chuck universe, this is where
Chuck
and
Bryce
met and attended university together, bonding over the common interest in the old game
Zork
. The modified Zork code they created together at Stanford was used as a password protection method when Bryce sent Chuck
the Intersect
.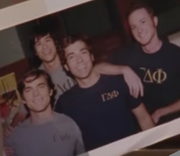 In the Season One episode "Chuck Versus the Alma Mater", Chuck has to return to Stanford University, the institute that expelled him, on homecoming weekend to help a former professor; Professor Fleming. The professor copied intel containing information on the students that Flemming had been recruiting into the CIA and NSA for years and is now being hunted by an Icelandic gun for hire, Magnus Einerson. Unfortunately the professor is attacked and taken to hospital, and the team have to recover the disk by themselves; whilst Chuck finds out the truth about Bryce Larkin; how he got Chuck expelled from Stanford so he wouldn't be dragged in to work for an intelligence agency.
Professors and Students
Edit
Notable Visitors
Edit
Community content is available under
CC-BY-SA
unless otherwise noted.