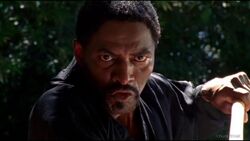 Ty Bennett, born April 11, 1963 at Camp Foster Marine Base, is a Ring recruiter and martial arts expert who was previously a combat trainer with the NSA, serving as the sensei for John Casey. He is portrayed by Carl Lumbly.
He works as a Global arms dealer sometime after training Casey, and steals an inertial guidance system from the Global Launch Agency.
At the Buy More, he crushed a can with his bare hands, angry yet verbally polite in responding to Morgan, who was in a competition with the other Buy More staff to be as useless as possible, and refusing to tell Bennett where he could find Casey.
In his entire cause of recruiting agents to Fulcrum, Casey is the first known agent who had trained under him to force Bennett to "tap out", following a protracted abduction and battle, leading to his apprehension and arrest.
In "Chuck Versus the Tic Tac", Casey's NSA recruiter Colonel James Keller, a Ring agent, was found to have turned Ty Bennett to the Ring subdivision known as Fulcrum.
First and only appearance in: "Chuck Versus the Sensei"

Abilities
Edit
Bennett is a karate master, kung fu expert and master strategist. He was hired to train NSA agents in martial arts.
Community content is available under
CC-BY-SA
unless otherwise noted.