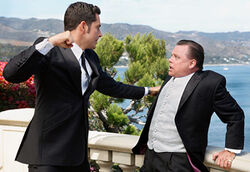 Chuck vs. Luke Skywalker? There's a title you probably never though you would see (but secretly hoped for) on Chuck.
Well come this fall, you're going to get the next best thing, because Mark Hamill of Star Wars will guest star as a rich thief named Jean-Claude for Chuck's Season 5 premiere (October 21)!
Spy vs. Jedi Knight. Who will win?
Source