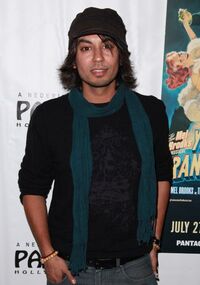 Vik Sahay plays Lester Patel, a key member of the Nerd Herd.
Vik is an accomplished comedic actor. He was born in Montréal, Canada and attended Canterbury High School of the Arts in Ottawa, Ontario and went on to study Theatre Performance at Montreal's Concordia University.
He learned Indian cal dance with his brother Sidharth, with whom he appeared on 1979's You Can't Do That on Television. He was also featured in the television series Radio Active, playing sportscaster Kevin Calvin. Based on that work, he was selected to appear in Our Hero as Dalal Vidya, for which he was nominated for a 2002 Canadian Comedy Award.
In addition to TV series work, Vik has an extensive filmography, appearing in TV movies and such films as Good Will Hunting, The Roxy Hunter Series, eXistenZ, Hollow Point, Rainbow, The Ride, and Wings of Hope.
Post Chuck he has appeared on shows such as Bones, NCIS and The Mentalist.
External links
Edit