Vincent Smith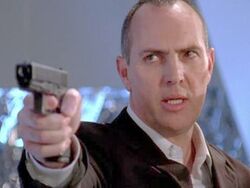 Vincent Smith was born in Louisville, KY. He is the head of the Fulcrum team in search of Orion, the Intersect designer, and has been tracking him for three years. Vincent is the secondary antagonist of Season 2.
Smith eventually managed to locate Orion in Hong Kong, narrowly missing a lethal trap set up by Orion. He kidnaps Chuck in hopes of luring Orion into the open to capture him. However, this plan is foiled by Sarah and Casey, who shoot him before he escapes.
In "Chuck Versus the Dream Job", Vincent was revealed to have survived his wounds and escaped capture. He was working with Ted Roark in the efforts to capture Stephen Bartowski. Vincent returned again in "Chuck Versus the Colonel". He briefly captured Sarah before Chuck ran him over with their car, but again survived his injuries. He captures the team when they assault Black Rock to rescue Stephen, and was apparently inside the drive-in when the F-16 bomb assault occurred, finally dying as a result.
Vincent was a former US Army Ranger, rank of Second Lieutenant, believed to have been killed in action in Khowst, Afghanistan. In reality his death was staged and he went underground, working for Fulcrum.
He is a native of Louisville, KY and originally enlisted into the U.S. Army Reserve in October 1985 as a Combat Engineer. He was commissioned from the University of Kentucky ROTC program as a Distinguished Military Graduate in May 1989. He graduated in December 1990 with a Bachelor of Arts in Geography. He entered active duty in February 1991 as a Chemical Officer. From June 1994 to June 1996, he successfully completed and graduated from the Special Forces Assessment and Selection course at Fort Bragg. He became a member of Fulcrum in June 2000 after meeting the Fulcrum Operative 345.
Vincent's surprise return in "Chuck Versus the Dream Job" makes him the first adversary of Operation Bartowski to have appeared in two non-continuous story arcs. Previously, Dr. Jill Roberts and Tommy Delgado appeared in consecutive episodes. Brad White was mentioned and part of his corpse shown in "Chuck Versus the Beefcake" after his death two episodes previously in "Chuck Versus the Suburbs".
In his three appearances in the series, Vincent was blown up by a Predator drone overrode by Orion, shot, poisoned, shot again, smashed between a door by Orion, run over by a Dodge Challenger driven by Chuck, and knocked unconscious in the Intersect control booth by Sarah.
List of Appearances
Edit
Community content is available under
CC-BY-SA
unless otherwise noted.