Message: This article is written from a real-world point of view.
Wendy Makkena
Biographical informations
Name
Wendy Makenna
Birthplace
New York City
Birth Date
October 4, 1963
Character information
Portrays
General Mary Beckman
Season(s)
Pilot
Wendy Makkena originally played General Mary Beckman on the NBC television series Chuck. She only appeared in the pilot episode, "Chuck Versus the Intersect". For unexplained reasons, Makkena was replaced by actress Bonita Friedericy, and the name of the character was changed to General Diane Beckman.
Born in New York City, Makkena began her acting career in 1986 and appeared in the TV show Santa Barbara.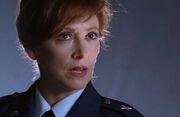 She later landed her first movie role in Eight Men Out. She has made various guest appearances in TV shows such as Law & Order, Monsters, NYPD Blue and House.
Makenna appeared on House in 2007, and was also a guest on Law & Order: Special Victims Unit in 2009. She was also originally meant to portray as General Mary Beckman in the NBC television series pilot Chuck in 2007, but was replaced with Bonita Friedericy, who portrayed General Diane Beckman for the duration of the series.
Community content is available under
CC-BY-SA
unless otherwise noted.