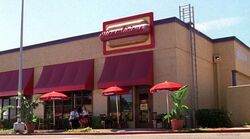 Wienerlicious is a German hot dog restaurant, seen in the first season of Chuck, located in the same complex as the Burbank Buy More. The store is replaced in the second season onwards with a frozen yogurt shop, Orange Orange, which is built over Castle. Wienerlicious is an apparent parody of Wienerschnitzel.
With the store being close to the Buy More where her asset Chuck works, Sarah Walker takes a job at the Wienerlicious as part of her civilian cover. To communicate with their CIA and NSA superiors easily, a hidden monitor and comm station is built into the main countertop, accessed by pressing cash register keys "7-2-1-0-Enter"—at least in "Chuck Versus the Marlin".
During Sarah's time at the Wienerlicious the only other member of staff who is seen is Scooter, her supervisor seen in a couple of episodes. Although none are seen in Sarah's duration working at the store, there are other Wienerlicious girls who are invited to Sarah's hen night in "Chuck Versus Agent X".
In "Chuck Versus the Goodbye", Chuck and Sarah went to a Wienerlicious branch in Berlin.
The exterior shots are of the Stargazer restaurant located in the Fallbrook Center in West Hills, CA ( located at 34°11'17.75"N, 118°37'25.48"W). This is the same shopping center as the Mervyns used for the exterior shots of Buy More.